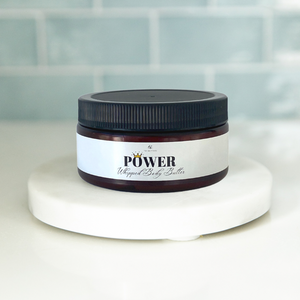 Power Whipped Body Butter
A soft and creamy body butter that nourishes and rejuvenates all skin types. Our butters have anti aging properties and leaves your skin moisturized and soft. 
This butter has a light cologne scent that is perfect for men and also fitting for sexy and powerful women.
Best on clean and damp skin. 
Ingrediants: Vitellaria paradoxa (Shea Butter), Prunus Armeniaca (Apricot Oil), Vitis Vinifers (Grapeseed Oil), Prunus Dulcis(Almond Oil), Fragrance oil